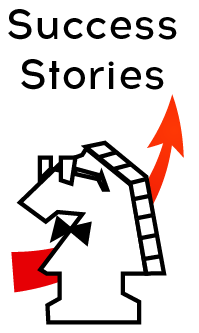 Business problem:
Education
Serious games used:
Custom wargame
The organizers of a week-long simulation at McGill University invited journalism to participate in this event, during which they would play the roles of reporters covering a conflict in the imaginary country of Equatorial Cyberspace. While many simulations (a.k.a. wargames) put participants in the roles of combatants, this exercise was unusual in making the press the main protagonists.
As they prepared to file a story about the mining of "conflict diamonds" in the region, the students received a pleading message from the president of the country, asking that they not publish lest they skew delicate negotiations presently underway. Even as they grappled with the ethics of putting the story on hold, further crises erupted, including revelations about munitions deals, slave labor, mass graves. What would the students cover, and in what medium?
During the week of simulation, when they were lied to, manipulated, insulted, threatened and occasionally praised, these students learned (and sometimes taught) invaluable lessons about the role of journalism in undermining or facilitating the complex transition from war to peace.
For more information…
Blog post about this crisis simulation at the Paxsims blog