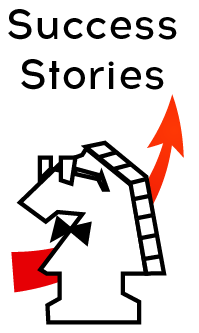 Business problem:
Insights
Serious games used:
Speedboat
Embase, a division of Elsevier B.V. used Speedboat at their exhibit booth during the Medical Library Association spring meeting of 2010. They ran the game several times a day in 20-minute bursts, focusing on evidence-based medicine, a topic of particular interest to medical librarians.
The goal was to generate sales leads, and to associate the Embase brand with innovation, customer engagement and evidence-based medicine. The results were outstanding, by all measures: more sales leads were generated from this meeting than from all of the previous five years combined.
The 6 participants for the first 20-minute session were key existing customers who were invited by Embase for the kick-off game. Their role was to brainstorm and prioritize the anchors (issues and problems they face) that hold back the speedboat (in this case, evidence-based medicine).
Embase chose these customers for their deep knowledge and trusted relationship. In this way, attendance was guaranteed at the first session and participants felt free to discuss any and all problems. The remaining 20-minute sessions focused on generating ideas to dissolve the anchors and solve the problems. The participants for these sessions were invited using "bring-a-friend" cards that were given to all participants leaving a game as well as to passers-by at the booth. They also used so-called "crowd-sourcers," professional staff whose job is to engage passers-by and persuade them to attend events on the booth.
Three copies of the speedboat and anchors were made so that for any session, and up to 18 participants could take part in idea generation (3 groups of 6 each). A maximum of 6 participants per game was chosen so that everyone could huddle together and hear what was going on over the noise of a busy exhibit. There was one facilitator and one observer per group of 6 participants. A countdown clock was projected onto a plasma screen on the booth; there were many events going on at the booth so exact timing was very important.
The game format created a real buzz at the exhibit. Not just the librarians but even competitors came to see what was happening. The Embase team are convinced that bringing a fun element to their interactions with customers will really improve their relationship. They are looking now to see how they can deploy online games to build on this success.
For more information…
A summary of the Speedboat game.